- Pomona Valley Hospital Medical Center Case Study -
Wound Care Management Solution
Futura's Mobile Image Capture Application

About Pomona Valley Hospital Medical Center
Pomona Valley Hospital Medical Center (PVHMC) is a 412-bed, fully accredited, acute care hospital serving eastern Los Angeles and western San Bernardino counties, and has more than 3,500 employees, 700 active physicians, and almost 1,000 volunteers.
As one of the largest not-for-profit hospitals in the greater Los Angeles area, PVHMC has been nationally and regionally recognized for its cost-effective, superior quality health services that support the needs of its diverse ethnic, religious, and cultural communities.
The Challenge

What we needed to overcome
The demand for wound care management solutions is growing faster than U.S. healthcare systems can keep pace with, according to a recent article in McKnight's Long-Term Care News. This is attributed to the rising number of diabetic patients and an increase of surgical cases among the geriatric population.
To help stay ahead of the curve, leading healthcare systems are now investing in specialized, state-of-the-art wound care management / image capture software. These web-based applications offer users a full range of enhanced capabilities that easily integrate with existing EMR platforms – from wound measurement and assessment to quality control, documentation, and enhanced security for HIPAA-protected patient health data.
The absence of this digital functionality – so critical to managing clinical and operational workflows – was the challenge facing PVHMC. For many years the Medical Center operated under a cumbersome, labor-intensive process for documenting patient wounds that:
Required excessive manual effort.

Lacked any direct integration with their EMR.

Used unsecured digital cameras.

Raised concerns over securing protected health information.
Inefficiencies in the daily workflow had clinicians taking pictures of patient wounds, taping those images to paper documents that the clinician created, scanning the documents, and then uploading the updated patient file to their EMR. These time-consuming steps had to be repeated across the care spectrum for each case – from measurement through to healing. With such embedded procedures, it was not unusual for patient wound needs to slip through the cracks.
These challenges stood in the way of PVHMC optimizing its wound care management with 21st-century software. When you work in an environment where seconds count, decisions can't be minutes away. To improve its diagnostic, analytic, and treatment workflows, a fully automated and customizable solution was needed that would:
Improve patient health and outcomes through less invasive interactions.

Increase operational effectiveness by eliminating process inefficiencies.

Create seamless integration and secure data flow with their EMR.

Meet all department needs, including clinical and medical records users.
Leading this initiative at PVHMC was Kent Hoyos, Chief Information Officer, and his IT team. Fully committed to changing the wound care environment, they evaluated several vendor solutions. However, limited features and functionality, poor navigation, and lack of an acceptable degree of user friendliness made them unacceptable choices.
With so much at stake, PVHMC determined that it needed a trusted industry partner to help engineer a best-in-breed solution that would make managing wound care more accurate, efficient, and cost-effective.
In 2021, the U.S. wound and tissue management market size was valued at $10.7 billion, according to iData Research. Total market size is expected to increase at a compound annual growth rate (CAGR) of 3.6% to exceed $13.8 billion by 2028.
The Solution

Wound Care Management Application
Following regular conversations and a competitive pitch, PVHMC selected Futura Healthcare as its technology partner to help design and deploy an advanced wound care management application.
Futura's development team and PVHMC's IT group worked in collaboration to build the solution from the ground up. Their blueprint was a master list of critical needs, specs, features, and functions compiled at PVHMC that became their roadmap.
The result was a comprehensive Mobile Wound Care Management App specifically designed to meet the Medical Center's requirements.
In addition to improving and expediting the treatment of all wound types, the Futura App delivered benefits that changed the way nurses and clinicians measured, analyzed, and treated patients:
Provided an intuitive, easy-to-navigate, customizable, and adaptive user experience for nurses, physicians, clinicians, and medical records teams.

Seamless integration of the Wound Care App with the newly installed Cerner Millennium® EMR enabled secure information flow to and from patient records.

Robust functionality enabled PVHMC to improve patient satisfaction and outcomes by eliminating redundant data entry, reducing the chance for errors and saving time.

HIPAA compliant with secure automated user login and patient ID.
The App is currently being used on iOS and Android devices because it is easy to deploy and maintain, has successfully eliminated almost all manual effort, and has been adopted not only for wound care but for any setting where photography and documentation are needed.
Results
Since being introduced in 2016, the impact of the Mobile Wound Care Management App has been palpable based on the results it has generated:
Currently deployed to more than 500 iOS and Android devices.

The integration of the App during the middle of PVHMC's transition to its new EMR – done without disruption – was a critical achievement.

Viewed by clinicians as key to job performance by providing an all-inclusive, end-to-end workflow and accurate documentation that's easy to upload.

Adoption rates were beyond expectation. Users continue to show high levels of satisfaction and have opted to not use other solutions presented to them since deploying the Futura App.
About Us
Futura Healthcare is a trusted industry partner delivering end-to-end healthcare advisory, consulting, and technology solutions. We are vendor agnostic and help healthcare institutions achieve their strategic goals of improved patient outcomes, operational efficiency, and enhanced clinician engagement.
As a single source partner, we deploy best-of-breed technologies – from mobility hardware and eLearning to advisory services and consulting. We have serviced 1 in 3 hospitals nationwide, deployed and supported over 600,000 IT assets, and have defined healthcare technology best practices for over 20 years.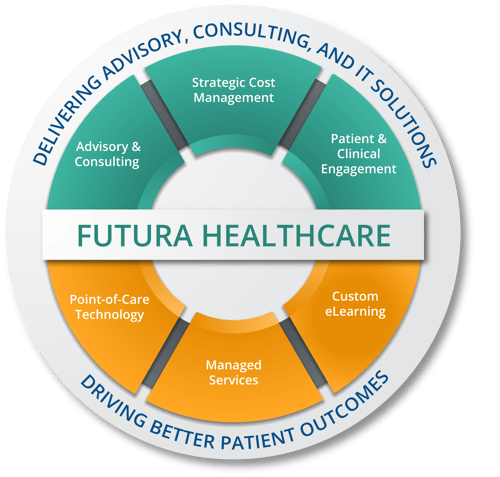 Become our next success story