- Pomona Valley Hospital Medical Center Case Study -
Wound Care Management Solution
Futura's Mobile Image Capture Application

Pomona Valley Hospital Medical Center
Pomona Valley Hospital Medical Center (PVHMC) is a 412-bed, fully accredited, acute care hospital serving Eastern Los Angeles and Western San Bernardino counties, and has more than 3,500 employees, 700 active physicians, and almost 1,000 volunteers.
As one of the largest not-for-profit hospitals in the greater Los Angeles area, PVHMC has been nationally and regionally recognized for its cost-effective, superior quality health services that support the needs of its diverse community.
The Challenge

What we needed to overcome
Hospital providers must assess and monitor their patients' skin condition upon admission and during their stay for pressure injuries. A pressure injury, sometimes called a bedsore, is a wound in the skin or underlying tissue caused by pressure, friction and moisture. These injuries often occur when patients have limited mobility and can't change positions in bed on their own. Hospital Acquired Pressure Injuries (HAPI) are not only detrimental to the patient but are among the most common cause of lawsuits and lost revenues for providers.
PVHMC had protocols in place to ensure that patients with sores or wounds upon admission did not become worse and that no Hospital Acquired Pressure Injuries (HAPI) occurred after admission. PVHMC's process for these assessments included visual inspection and photographing of patients' skin. The process was however very manual and created challenges with access to timely data and efficient clinician workflows.
These challenges led PVHMC towards optimizing its wound care management with 21st Century software. PVHMC had experience developing in-house applications and had envisioned a mobile App to aide in the wound and skin assessments. PVHMC chose to partner with Futura Healthcare to develop the Mobile Wound Care App. The mobile App solution replaced the previous process with the following benefits:
Greatly reduced manual effort.

Improved timeliness of patient data.

Increased security for protected health information.

Improved patient health and outcomes through less invasive interactions.

Increased operational effectiveness by eliminating process inefficiencies.

Seamless integration and secure data flow with their EMR.

Meeting all department needs, including clinical and medical records users.
To realize these benefits, PVHMC determined that it needed a trusted industry partner to help engineer a best-in-breed solution that would make managing wound care more accurate, efficient, and cost-effective.
"Hospital-acquired pressure injuries (HAPIs) affect 2.5 million patients per year in the United States. With the cost of treating a single instance as high as $70,000, and because many payers, including Medicare and Medicaid, are not covering them, the business case for prevention is apparent."





HFMA - Feb 01, 2021 By Nickolas A. Vitale, LFACHE, and David A. Dzioba
The Solution

Wound Care Management Application
Following regular conversations PVHMC selected Futura Healthcare as its technology partner to help design and deploy an advanced, wound care management application.
Futura's development team and PVHMC's IT group worked in collaboration to build the solution from the ground up. Their blueprint was a master list of critical needs, specs, features, and functions compiled by PVHMC that became their roadmap.
The result was a comprehensive, Mobile Wound Care Management App specifically designed to meet the Medical Center's requirements.
In addition to improving and expediting the treatment of all wound types, the Futura App delivered benefits that changed the way nurses and clinicians measured, analyzed, and treated patients:
Provided an intuitive, easy-to-navigate, customizable, and adaptive user experience for nurses, physicians, clinicians, and medical records teams.

Seamless integration of the Wound Care App with the newly installed Cerner Millennium® EMR enabled secure information flow to and from patient records.

Robust functionality enabled PVHMC to improve patient satisfaction and outcomes by eliminating redundant data entry, reducing the chance for errors, and saving time.

HIPAA compliant with secure automated user login and patient ID.
The App is currently being used on IOS and Android devices because it is easy to deploy and maintain, has successfully eliminated almost all manual effort, and has been adopted not only for wound care but for any setting where photography and documentation are needed.
"We chose to partner with Futura Healthcare because they gave us the one thing we don't get from a lot of vendors — they listened. Highly skilled and easy to work with, Futura delivered on what they promised, and that earned our trust."





Kent Hoyos




Chief Information Officer
Results
Since being introduced in 2016, the impact of the Wound Care Management App has been palpable based on the results it has generated:
Currently deployed to more than 500 IOS and Android devices.

The integration of the App during the middle of PVHMC's transition to its new, EMR – done without disruption – was a critical achievement.

Viewed by clinicians as key to job performance by providing an all-inclusive, end-to-end workflow and accurate documentation that's easy to upload.

Adoption rates were beyond expectation. Users continue to show high levels of satisfaction and have opted to not use other solutions presented to them since deploying the Futura mobile App.
About Us
Futura Healthcare is a trusted industry partner delivering end-to-end healthcare advisory, consulting, and technology solutions. We are vendor agnostic and help healthcare institutions achieve their strategic goals of improved patient outcomes, operational efficiency, and enhanced clinician engagement.
As a single source partner, we deploy best-of-breed technologies – from mobility hardware and eLearning to advisory services and consulting. We have serviced 1 in 3 hospitals nationwide, deployed and supported over 600,000 IT assets, and have defined healthcare technology best practices for over 20 years.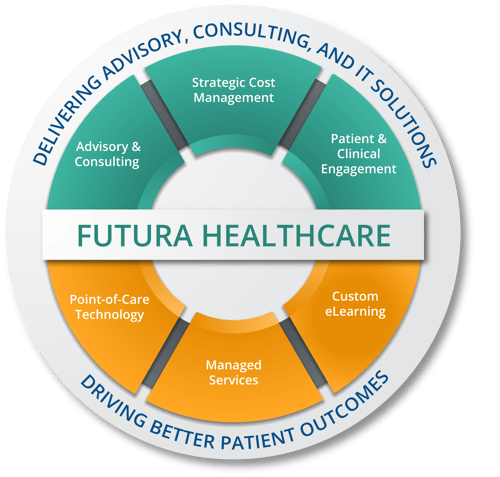 Save this story for later